There's only one day left to enter for a chance to win a One Direction makeup kit! Click HERE to try your luck.
When I became pregnant with my beautiful twin boys last year, I gained 100 lbs. (45 kilograms), which was a lot for my 5'1" frame (~155 cm). I have since lost the weight, but my body shape has changed, especially in the torso. The weight distribution is now different than it was before, and the clothes that looked good on me before I got pregnant, now look just wrong.
I felt extremely sad, and shopping for clothes became more daunting than ever, just because I did not know how to dress my new body shape. Before I knew it, I fell into a minor depression; the depression wasn't great enough to inhibit me from carrying out my day-to-day activities, but it did follow me around in a form of constant sadness. I burst into tears easily, and even taking a shower became a painful experience because I had to look at my body.
Most difficult of all was finding clothes that made me feel good about myself. Nothing from the mall felt right. Things that fit my waist and hips would be too large for my legs. Designs for "normal" women looked too overwhelming on me, yet clothes in junior sizes were too small in the bust and hip. I also couldn't shop for petite sizes because while they were cut shorter, they were somehow wider, or just plain dowdy.
Everything was just wrong, wrong, wrong! I lived in workout clothes for awhile. My only other options were to either have clothes tailor made (expensive!) or buy what I wanted and had them altered (again, expensive!). With two babies who need so much, and will continue to need more as they grow older, there was just no way that I could afford to have customized or semi-customized clothing made.
Then, I discovered an online store called
eShakti
, which offers not only beautifully designed clothes made with unique fabric prints, but I could have the talented
eShakti
team customize my dress as much as I like, for only a few dollars more! I can have the bust, waist, skirt length, etc., etc., of the dress customized to fit my body, and present it in the most flattering light. Also, I can have sleeves added, shortened, lengthened, or taken away.
For example, this dress, named
Kenya
, caught my attention:
But the dress was originally designed to have cap sleeves:
By the way, the color in the official picture below is correct. If I adjust my picture to have the dress match the color, then my complexion would be off. Just thought I'd let you know! :-)
When the dress arrived in the mail via DHL, approximately 14 days after I had placed my order, I could not wait to try it on! Remember, I had everything customized: bust; waist; hips; length; shoulders; anything else that could be customized, I had it customized. So, the fact that this dress was custom made and arrived at my front door in only two weeks was very impressive!
And, guess what, it costs only an additional $7.50, regardless how much customization you might need for your dress. Isn't that amazing?
Most of the dresses have a sweet, retro-inspired touch, but they are so versatile and can easily be modernized! For example, I wear my Kenya dress with wedges in the picture, yet it also looks super cute with flip-flops, or even boots!
For this week only,
eShakti
is having a site-wide sale, where everything is up to 70% off! Also, shipping is free if your order is $50 or more! Lastly, if you are based in the United States, sign up to be on their e-mail list, you will also get a $25 gift coupon. As of right now, eShakti will ship only to US addresses, but since the prices are so reasonable for what you get, it might be worth it to get a mail forwarding service if you live outside of the States! :-)
eShakti
has turned me into a lifelong customer. Even my husband said that he hadn't seen me this happy in such a long time.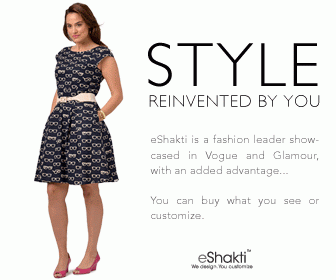 **This dress was sent to me from
eShakti
, free of charge, to review. The opinion expressed here is my own.
What do you find to be the most challenging when it comes to shopping for clothes?
If you have a blog, please leave a link with your comment; I would love to visit it! :-)